How to Choose the Right Softball Bat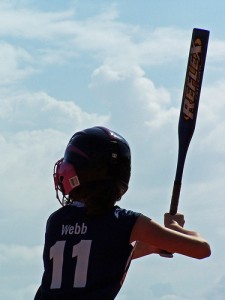 One of the hardest things about starting a new sport is knowing what equipment to purchase. In the case of
softball
, while there are definitely exceptions to every rule, the following are guidelines that should help you when choosing a softball bat for your daughter:
A bat generally should not be any taller off the ground than your waist.  
You also need to pay attention to the weight of the bat. For younger players it is a good rule of thumb to get bats that have a -12 weight ratio. This means if a bat you choose is 30 inches long, the weight of the bat would be 18 ounces. This helps with bat speed which is critical when hitting against faster pitchers. An exception to the rule would be if your child is much taller and stronger than most of her peers. 
The next thing to consider is the type of material you want the bat to be constructed out of. The three most common are steel, aluminum and composite. The first two are going to be the most cost effective and provide a decent "pop" off of the bat when making contact off of the bat. Composite bats on the other hand range in price from $100 to $300. They provide an extreme amount of "pop" off of the bat when making contact with the ball. This essentially means that a hitter making contact with a ball is going to hit the ball further when using a composite softball bat versus a metal bat. One downside to a composite bat is durability. You should never use a composite bat when the temperatures are below 55 degrees. 
 The last option to consider when buying a softball bat is weather the bat you choose is balanced or endloaded. A balanced bat means the weight of the bat is evenly balanced over the full length of the bat making it easier for younger and smaller players to have enough bat speed to hit the ball against all types of pitchers. An endloaded bat puts more weight towards the end of the bat making the ball go even further when hit. It makes the bat feel even heavier than the listed weight making it ideal for the bigger, stronger, power hitters in the game. 
I hope this helps you when making your decision on what type of bat to buy. I hope your daughters have a terrific season!
Guest post by Chris Houck, girls softball and co-ed softball team coach and softball Dad. 
Photo: Flickr
Leave a Comment