Hey Sports Parents! Give New Coaches A Chance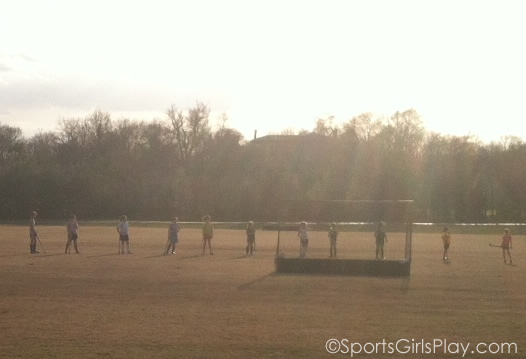 Yesterday was the first day of spring field hockey practice for my 10 year old and she was so excited, she could hardly stand it! She had her new cleats on, new field hockey bag with sticks, ball and mouth guard ready to go. As we pull in to the parking lot it begins to rain – yet the sky is blue and the sun is shining – weird weather, but she doesn't care, it is time to play field hockey.
We found her field and a few parents confirmed that yes, we were in the right place. I made a comment inquiring if the coach was there yet, only to get an immediate negative response from the mother standing next to me about how the team got assigned high school girls as coaches and then she went on and on about how they have never had a good experience with high school students as coaches. SERIOUSLY? She hasn't even given these two a chance and could she have waited until I sent my child out onto the field before she unleashed her bitterness? After all, it is a Parks & Rec league you paid $50 for the season to play!
Every great coach was a new coach ONCE! (I sure was! I started coaching when I was 14 and still coach to this day, almost 30 years later.) Many great coaches started out just as these girls are – as high school students giving back to a sport they love – either as a part time job or for community service hours. Our Parks & Rec department doesn't exactly pay its coaches, so it is not like the experienced adult coaches are flocking to the program to coach! A Parks & Rec season is the perfect opportunity for young coaches to get started!
Even though the rain was coming down, the two coaches had the girls start workout, did an organized run and stretch then started some drills. They broke up the practice, alternating between drills, basic conditioning and even a little game at the end to help the girls get to know each other. It really bothered me to listen to these two moms questioning why the coaches decided to have the girls do jumping jacks in the middle of practice or to listen to them belittle them for doing the name game at the end. It's not like either one of them stepped up to the plate and volunteered to coach the team – and it was very evident that one of them had the experience to do it!
At the end of practice the coaches collected money for matching green socks, high fived the girls and did so with a smile on their faces. When I asked my daughter how she liked it, she said she had a great time and kept going on and on about how her coaches were nice, the drills they did and how playing in the rain at first just didn't bother her. Personally, I think it is going to be a fun season – and I am looking forward to watching the athletes and the coaches grow together as a team!
Leave a Comment