Gabby Douglas – The Real Star of the AT&T American Cup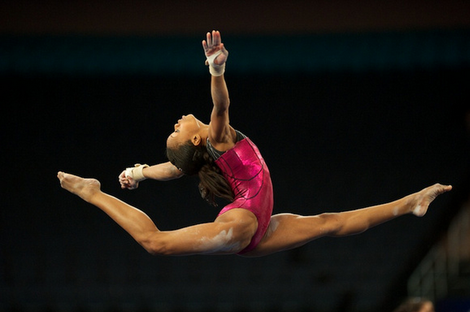 Going into this past weekend's AT&T American Cup all eyes were on Jordyn Wieber – you know, 2012's "IT" girl according to the media – but by the end of the meet all you could hear was the name Gabby Douglas. Why? Because Gabrielle Douglas was only supposed to exhibition at the AT&T American Cup – it was for experience and she was not eligible for awards, but when all was said and done – she actually had the highest All Around score of any of the competitors including Americans Jordyn Wieber and Alexandra Raisman. Gabby finished the competition with a 61.299 and Jordyn had 61.032. Technically Jordyn Wieber is still the champion, but Gabby gains the confidence of knowing she had the highest score of the day.
So what does this mean going into the 2012 Olympics in London? Well, first it takes a little bit of the media spotlight off of Jordyn – at least in the sense that hopefully they might just want to focus on more than one gymnast. Second, I think it just gave Jordyn a bit of a wake up call. Of course we don't expect her to be at her peak for the AT&T American Cup – and after seeing her mistakes on bars and beam, it was obvious she is not even close to being in peak performance mode – but then again, neither are her competitors. And it means the US team is just that much stronger – as Gabby gains confidence and experience, it just adds to her total package of power, flexibility, technique and style.
After watching Alexandra Raisman's bar routine – horrible form everywhere – and Jordyn Wieber's bar routine – where she had to make a superhuman save in a handstand to keep from going over, Gabby's bar routine just ROCKED! Her handstands are gorgeous, her release moves are ridiculously high, her form is fabulous and I think she is the one to beat on bars, not Wieber. Here is a video of the routine Gabby performed in warm ups which is basically the same performance she gave in the meet.
If you visit Between the Olympics you can see even more videos from Gabby, Jordyn and Alexandra and also get a breakdown of what makes their routines special.
I am very proud of Gabby and being the underdog is a great position to be in coming into the Olympics! While she has been training at Chow's Gymnastics for the past few years, she is a Virginia girl who has literally been a shining star since day 1 – she was State Champion as a Level 4 (I remember watching her compete at that meet), was on the TOPS National Team for three years (I tested her on stalder presses at some of the regional testings – she rocked them out!) and rose quickly through the Optional levels qualifying for Regional and National Championships along the way.
Hurry up summer! I can't wait for the 2012 Olympics to start!
Leave a Comment