Congratulations Pittsburgh Penguins Stanley Cup Champions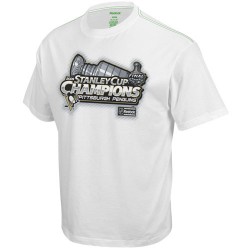 Yes, I know the name of this site is Sports GIRLS Play, but a great game is a great game, regardless. The Pittsburgh Penguins – Detroit Redwings made the Stanley Cup Final an amazing match up this year! The Redwings won the first two games, the Penguins won the next two in the best of 7 series. Next the Redwings won game 5 a whopping 5-0 followed by a Penguin win in game 6.
Tonight's game was good, clean hockey! Exciting, intense, heart pounding and close. The final score of 2-1 just reinforced how well matched these two teams really were. Congratulations really go out to both teams – but since this is a Pittsburgh sports loving house, we are so proud of those Penguins!!!
PS – Its not too late to order a Pittsburgh Penguins Stanley Cup Champions t-shirt for your favorite Hockey Fan Dad!
Leave a Comment